Trochę nowe spojrzenie na miejsce języka praindoeuropejskiego i całej dziesiejszej IE rodziny językowej
w eurazjatyckiej makrorodzinie językowej.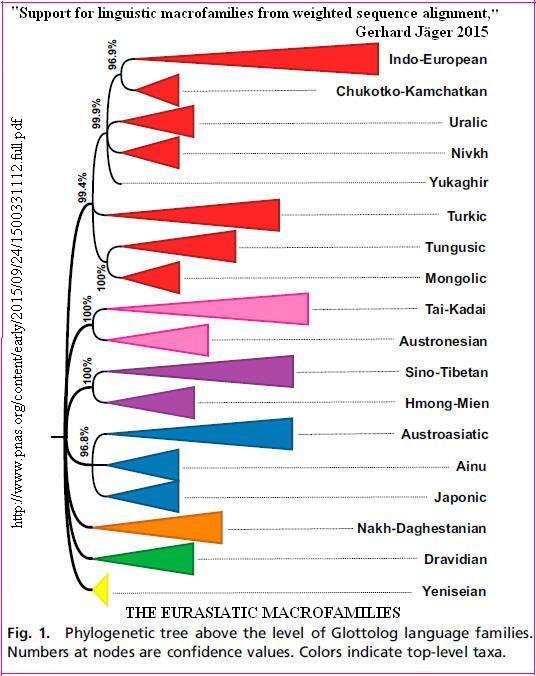 Stwierdzone związki językowe rodziny PIE z językową rodziną czukocko-kamczacką oraz z rodziną języków turkijskich, mającą swoje korzenie również we wschodniej Syberii, a nadto geograficzna lokalizacja R* Malta-1 potwierdzają domysly o istnieniu jakiegoś wspólnego refugium w czasie LGM w dorzeczu górnego Jeniseju/Angary. Łączy nas także bliskość ojcowskich linii: R, Q i N.
Godna uwagi jest też paleoantropologia kultury Okuniewo znad Górnego Jeniseju, łącząca europejskie paleo-PIE z grupą paleoantopologiczną Rdzennych Amerykanów z Alaski (prace Kozinceva).
Równocześnie widzimy jakiś sygnał dla lingwistyki, że nawet kilkanaście tysięcy lat od tej wpólnej praojczyzny nie wymazało wszystkich związków jezykowych.
W pracy Jager wziął pod uwagę tylko 40 elementów leksykalnych z listy Swadesha,
https://pl.wikipedia.org/wiki/Lista_Swadesha
i niektore elementy gramatyczne, jednoczące poszczególne grupy językowe. Całą pracę obliczeniową przekazał komputerowi, wystrzegając sie jakiejkolwiek uznaniowości podobienstwa, praktykowanej w językoznawstwie porównawczym..
ICE AGE.
Pre-PIE refugiums (from Jean Manco, Anthrogenica)
JEAN MANCO
The important thing that we have learned from the recent spate of ancient DNA results is that ANE and Y-DNA R did not come from an ice age refuge in Europe. The refuge was in Siberia. Any hunter-gatherer in Europe with an element of ANE had ancestors from Siberia. This includes EHG and SHG. Foragers with ANE and Y-DNA R did not arrive in Europe until long after the Ice Age maximum.

I hope this map makes matters clear.

Click image for larger version. Name: IceAgeMaxMap.gif Views: 121 Size: 67.3 KB ID: 5340

I should have added ANE to Y-DNA R in my key.

Last edited by Jean M; 07-29-2015 at 12:24 PM.